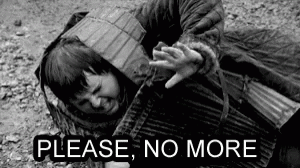 You would think after greatly suffering paper and actual losses unlike anything I ever endured in my 40-year career in and around the financial arena, I would scream Uncle, and head to the nearest hospital.
But instead, I stand in front of the single most brutal junior resource stocks bear market and say:
Bloodied, beaten, and given up for dead (and the wife hasn't had her pound of flesh yet), I come before you to share a letter below from a company I own, is a blog sponsor of mine, and is owned by a Fund I consult to. I believe if you're mentally and financially prepared to lose part or all your capital in exchange for hitting a "lottery-type return", the current "take-no-prisoners" junior resource market between now and year-end, can be looked back on in a year or two and be shown to have demonstrated adversity did indeed create opportunity – an Arianne Phosphate can be one of those.
Good Morning,
For many, the carnage in the small-cap mining sector has been so extreme, they have just given up.  As part of that process, stocks have dropped to levels not seen in many years and most have just stopped following names they used to have an interest in.  Personally, as someone who has been involved in this space for over 35 years, the only other time I can remember there being such 'hate' for the sector, was after the Bre-X fiasco of 30 years ago.
There is a flip side, however.  For those with the ability to push-through the pain and/or lethargy, there are Companies out there trading at ridiculously low valuations.  The returns over the next few years in some of these names will be substantial.  And, worth remembering, although the markets have been bad, some industries have done well, macros are supportive, and some companies have done well advancing their projects.  So, you have better pricing, better macros, more advanced companies AND lower share prices; smells like opportunity.
So, with that in mind, last week I sat down with Tim Weintraut of Alpha Wolf Trading (click here to view the interview) for a very extensive and informative interview.  For those that are looking for a comprehensive review of Arianne, its recent activities, and catalysts, the time will be well-spent to better understand the Company and its path forward.  For those who have not kept up to date with the Company, this interview is an excellent opportunity to get fully caught-up.
The interview covers:
Batteries:  benefits of the LFP
Phosphates:  different types and what works best for batteries
Arianne:  its history and where it is today
Phosphate demand:  competing forces of agricultural v. LFP
The LFP:  the dynamics of the battery
Arianne management:  additions to the team
China's role in the LFP:  the West looks for other sources
Phosphate as a critical material:  a re-rating coming?
Arianne's business plan:  vertical integration
Valuation/market capitalization
ESG:  How Arianne rates
Current market conditions
Arianne:  catalysts to look for
Projects:  early-stage v. advanced
Aside from the above, I will highlight this.  Arianne trades at roughly a $50M market cap, and it has taken the Company 12 years, and cost $100M to get to where it is.  And where it is, is, it has the world's largest greenfield deposit, capable of making a very high-purity, low-contaminant phosphate concentrate.  Because of the nature of its phosphate, it is ideal for use in the production of purified phosphoric acid ("PPA") and has already been proven to do so.  The project is fully-permitted and is in mining-friendly Quebec, Canada.  As you know (and the interview describes), the LFP is here and, many will start to understand that phosphate too is a critical mineral.  As the West looks to move away from China (currently over 90% of all LFPs) for its critical mineral supply, you can bet that Arianne is on the radar of many looking to secure their phosphate supply.  Think getting into lithium names 5+ years ago only, there are very few ways to get into phosphate.
I understand that an hour is a time commitment, especially for something that brings you mental anguish, but it will allow you to get a full update on the Company.  You can decide but, it is probably an hour well spent and will allow you to make an informed investment decision at a very good time.
Lastly, if you are interested in keeping up to date with Arianne, I would encourage you to go to the website and sign up for updates.  The Company puts out, on a regular basis, useful information about the macro, the industry and how this may affect Arianne.
Have a good day.
Brian Ostroff
President
Arianne Phosphate
Brian Ostroff
President
Arianne Phosphate Inc.
www.arianne-inc.com
393, rue Racine Est, suite 200
Chicoutimi (Québec) G7H 1T2
Tél.   514 928 9952
Fax  418-549-5750